Brandon Hamilton tours our large estate listing
Brandon did one of the most creative stories we had seen on this home, and we had many stories done!
We no longer have this home listed for sale.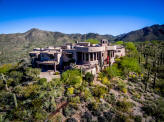 ---
Some of the many other gold hill stories
When Jonathon Trierweiler of ABC15 decided to feature the gold hill mine, his story set off a firestorm of interest. This was the second story done on the property by ABC15. And you can say that this latest story brought the most reaction. No other story has done that. Other TV stations followed and did stories as well, and a flurry of buyers saw the property. See ABC15's piece below, along with Jason Barry's from Channels 5 and 3. Jason impressed all of us by wearing a white shirt and tie into the mine, and emerging with not mark on it! Finally, Brandon Hamilton's story is linked below. He enjoyed venturing into the mine so much, I thought he would have bought it, if he brought along his checkbook!
---
2nd tour of this Cave Creek estate on Fox10's Cool House
A house is lucky enough to be featured on TV once. This home was featured on "Cool House" twice over the years. Former Fox10 host Kristin Anderson does the honors. Residence has been sold.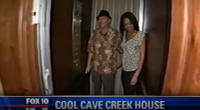 ---
Carefree's iconic Wedding Cake House
My former newscaster at KTAR, Diane Brennan, who has become very successful in real estate, toured the Wedding Cake House in Carefree. It had also been featured by the Wall Street Journal and this was the only tv tour they allowed. This home was sold.


---
Carefree's Home and Monstrous Hangar on Fox10


Syleste Rodriguez, host of "Cool House" tours this wonderful Skyranch home with the largest hangar, also bordering the Desert Forest Golf Course. Sold for $1.9 million in 2019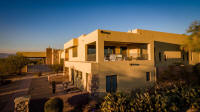 ---
One of the highest view properties, Cottonwood Canyon
Syleste Rodriguez, host of "Cool House" tours this stunning fortress home, one of the highest anywhere in Phoenix, with it's own full-size racquetball court, perched on a knoll with amazing drop-offs and a driveway not for the faint-of-heart! We were pleased to sell this home. We no longer have it listed for sale.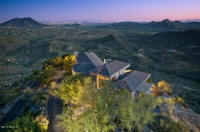 ---